Biography
Live Music for The New Age
Forged on the stages of Victoria's best performance venues Lust Life is a modern jazz band, dedicated to honouring the music and making each piece of music we play memorable. Conceived as a classic Jazz Band in 1994, over the years our repertoire has morphed to include blues, funk, pop, and Latin music. This band of professional musicians prides itself on making your evening fun and memorable by playing the perfect music selections for your occasion. Whether it is a private party, wedding reception, special event or corporate function. Lust Life is able to play anything from soft jazz for background music to groovin' R&B, Jump Blues, and Swing. This band is made up of talented musicians who have played in some of the top bands and orchestras in Canada and the USA. We can provide music ranging from a small Duo, Trio or Quartet for more intimate gatherings to a 10 piece Dance Band for larger occasions and receptions. No matter what your budget, Lust Life is willing to work with you to make your event one to remember.

Experienced Professional Entertainers
We pride ourselves on being able tailor the energy of the music to that of the room and keeping your guests wanting more, or simply blending in to the background. We have an extensive song list, but if there's a particular song you want, we would be happy to learn it for you. No matter what the location, Lust Life can accommodate your needs. We have worked in large venues providing corporate event music at the Royal BC Museum, Victoria International Jazz Festival, The Empress Hotel and Hatley Castle at Royal Roads. We  play smaller venues such as Tofino, Brentwood Bay Resort, Sooke Harbour House, Vancouver clubs and private parties. Lust Life also provides the sound equipment and can help announce or emcee an event if needed.Lust Life Jazz Band specializes in weddings, cocktail receptions, private parties, and corporate event entertainment, in Victoria BC. The best live band for your event in Victoria.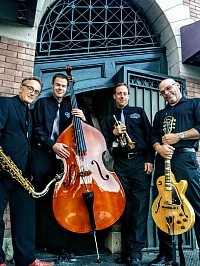 Lust LIfe Jazz Band at The Fairmont Empress Hotel
Lust Life Jazz Band - Live at The Empress Hotel