Live at The Bengal Lounge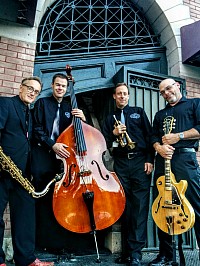 Lust Life Jazz Live from The Bengal Lounge
Lust Life Jazz Band was pleased to be selected as a featured entertainer at The Bengal Lounge located in the world renowned  Fairmont Empress Hotel for several years. The Bengal Lounge closed on April 30th 2016 and we will miss it.

Overlooking the stately Empress Hotel gardens, the richly appointed Bengal Lounge offers a dynamic cocktail bar, a delicious curry lunch and dinner buffet, and an impressive continental à la carte menu.

We hope you had a chance to come down to listen to our music and enjoyed the great service and warm fireside decor of this beautiful colonial style lounge.